Working hard for the hard working
Broadleaf Diesel's highly trained technicians can assist with your breakdown needs anytime you're in a bind. We offer 24/7 mobile service for heavy duty trucks, trailers, transport refrigeration, and tire repairs.
Swing by Broadleaf Diesel to get your Truck or Trailer washed today. Our specialized equipment can get you in and out quickly with little to no wait time. Our staff takes pride in caring for your equipment.
Washouts are available for dry-van, refrigerated, hopper bottom, dump, walking floor and belt wagon trailers.
With top-of-the-line technicians and technology, our shop offers a wide selection of trailer maintenance items such as: lights, ABS Systems, brakes, airbags, suspension bushings, landing gear repairs, and metal fabrication.
Transportation Refrigeration Repairs
Our technicians are highly trained refrigeration specialists. We provide service for Carrier and Thermo King and stock oem replacement parts for Carrier and Thermo King.
Heavy Duty Truck Repair & Service
Broadleaf Diesel offers a wide selection of repair services ranging from routine oil changes to emission diagonastics and repair. Other services include: clutch, transmission, starter, radiator, alternator, turbo, EGR, rear-end, brake, and a variety of other repair offerings.
Heavy & Medium Truck Repair
Diagnostics
A/C Repairs (Condenser, Radiators, Compressor, Drier etc.)
Lights and Electrical repairs
Suspension Airbags, brake chambers, ABS System
Exhaust, Emission, After treatment
Batteries, Starters, Alternators & much more
Grease & Full Services
DOT – inspections
DPF Filter replacements
Air Drier Yearly Filter replacement
Transmission Services
Electrical and lights
Door repair and replacements
ICC Bumpers
Mudflap / Brackets
Brake Chamber, airbags, ABS Valves and sensors
Floor Repair, Roof Repair
Landing gear and bat wing replacement
Wheel seals, hub, brake shoes, drums, and bearings & much more
Truck / Trailer Wash and Washout
Truck Wash $60
Truck / Trailer Wash $80
Trailer Outside Wash $60
Washout Hopper Bottom & Dump $80
Washout Reefer $50
Washout Straight Truck $30
We stock a small inventory of tires, we can offer a verity of brands and sizes from tier 1 premium tires to a more cost friendly tire.
Drive LP 22.5
11R22.5
Super Single
Recap – Trailer and Drive
Steer Tires
Heavy & Medium Duty Trucks
Trailers
Refrigeration Trailers
Tires
Small repairs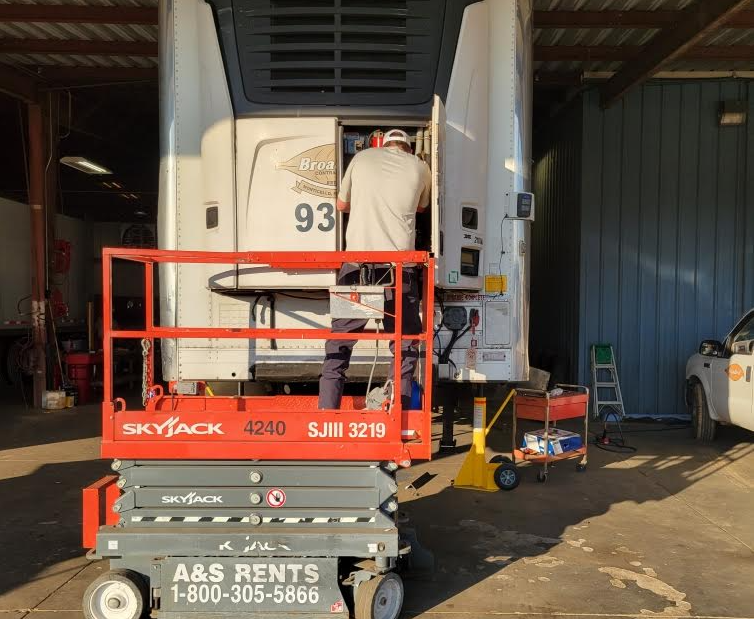 Transport Refrigeration Repairs
Carrier & Thermo King Repairs
Charge System
Belts and Electrical Repairs
Battery, Alternator, Starters
Fuel / Priming
Broadleaf Trucking is a family-owned business that was founded in 1975. It has grown to operate over 60 trucks with 130 trailers that cover dry vans, Refrigerated vans and Flat beds. In 2015 the family started an additional business that partners closely with the trucking company, Broadleaf Logistics. Now, Broadleaf Trucking has branched out another business Broadleaf Diesel into their empire of companies. Broadleaf Diesel will continue to work on Broadleaf Trucking equipment, but now will also be open to the public. We have a shop with fully equipped staff, parts, and experience for everyone's needs. Broadleaf Diesel's goal is to help the surrounding counties in any mechanical services that will help get your equipment back up and running.
Truck and Trailer Technician
Trailer Technician/Wash Lab
Truck & Trailer Technician
Truck and Trailer Wash Specialist
Trailer Refrigeration Technician –
3333 Freedom Lane SE – Moultrie, GA – 31788

Follow Us On Social Media